Instagram is a social media platform where we all love sharing visual content, and discovering exciting visual content from other Instagram users. It's especially great if you like photography and want to share your photos with the world, or find other people's photos that you love and want to share your photograph with your family and friends. Here we'll show you How to Download Photos From Instagram.
But Instagram has some drawbacks for photographers. While it's great to share your photos on the app, it's difficult to download them so that you can print or use them in other ways. If you're shooting primarily on your phone, then this is fine but if you're shooting with a camera, then it can be a real pain to not have access to your photos long after the shoot is over.
In order to solve this problem, there are many different methods of downloading Instagram photos that we'll cover in this article, all of them allow you to get at your photos no matter what type of device you shoot on. To know How to Download Photos From Instagram continue reading this article.
How to Download photos from Instagram
Open the Instagram app, and navigate to your profile by tapping the person icon shown at the bottom of your screen. (This may vary with different versions of Instagram)
Once you navigate to your profile, tap the menu icon (3 horizontal lines) at the top right of your screen.
Once the pop-up menu appears, select to go into the "Settings" option, which is on the first option. Next choose the "Account" option, then finally tap on the "Original Photos" option which will show only if you're using an iOS device. Android users will see the same option but different name as "Original Posts". (This may vary with different versions of Instagram)
Now, The Instagram app now gives you the option, which allows you to automatically save down your existing and future Instagram images (posts). Hit the blue confirmation switch to "Save Original Photos/Posts."
With this, you know How to Download Photos From Instagram. Now, every photo that you post on Instagram will also be Downloaded (saved) to your Phone.
also read How to delete an Instagram Account Permanently in 2022
How to save other user's Instagram photos
After knowing How to Download Photos From Instagram of own Instagram account, you are interested to know How to Download Photos From Instagram of other user's photos. But before that, Here's how to save other user's Instagram photos.
It's easy to save Instagram photos or videos posted by anyone (public user's) to a private area of your Instagram profile. so that you can view those saved photos again at any time. Other users will not be able to know that you've saved their photos or not.
To save a photo, you need to tap on the bookmark icon that appears below the photo. This will add the post to your default "Saved" folder.
Alternatively, if you want to save a photo to a certain collection or folder within your private Instagram saved area, then tap and hold the bookmark icon until it pop-up then choose any of the Instagram collections that you've already created. You can also create a new collection from this pop-up menu. This collection can be created by clicking on the "plus" symbol.
Now, to see those photos or videos that you've already saved and the collections you've already created, go to your profile and Then tap the "Saved" option which will appear in the pop-up menu. This pop-up will show you all the saved content that you have saved on your collections.
How to download Instagram photos (Using Browser)
Here you know How to Download Photos From an Instagram account of your own. It's not possible to download Instagram photos of other users from Instagram app Because of very valid copyright issues. But we'll show you How to Download Photos From Instagram using a browser.
To download any photos from Instagram open the photo in a browser. (Note: If you're trying to open without login into your own Instagram account, then you need to right click on the image and then select the "Copy Link Address" option.)
Now hover near the image and right click then, You will see a pop up menu. From this pop-up menu you need to Select the "View Page Source" option.
This will bring you the page source code up in a new browser tab. Scroll down through the code, or you can use your browser "Find" tool (ctrl + F), until you see the first link with the ".jpg" extension on it.
Copy the URL text that appears between the two " symbols, or quotation marks. Now Paste this URL into the new browser tab. Once the photo has loaded you can right click on the photo to download that photo.
You can view and download Instagram photos, videos, and reels using Imginn Instagram Viewer and Downloader
Alternatively, you can also use different third party download tools from chrome web store to download Instagram Photos.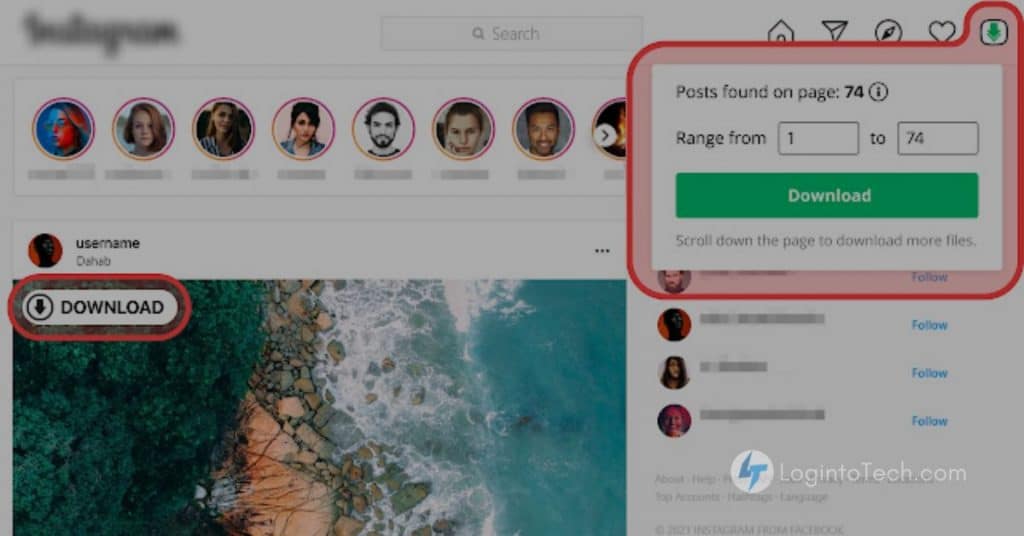 How to Download photos from Instagram : Conclusion
Now you know how to download photos from Instagram, it's easy to save the best Instagram photos on your own device. Post the best photos on your website, or you can share them on other social media like Facebook, tumbler, etc. Maybe you want to create a photo book or calendar with all your Instagram pics, The choice is yours!